Site Explorer 2.0
How to use the Best by links report
The Best by links report shows you which pages on a target website or subsection have the most backlinks pointing to them (external and internal).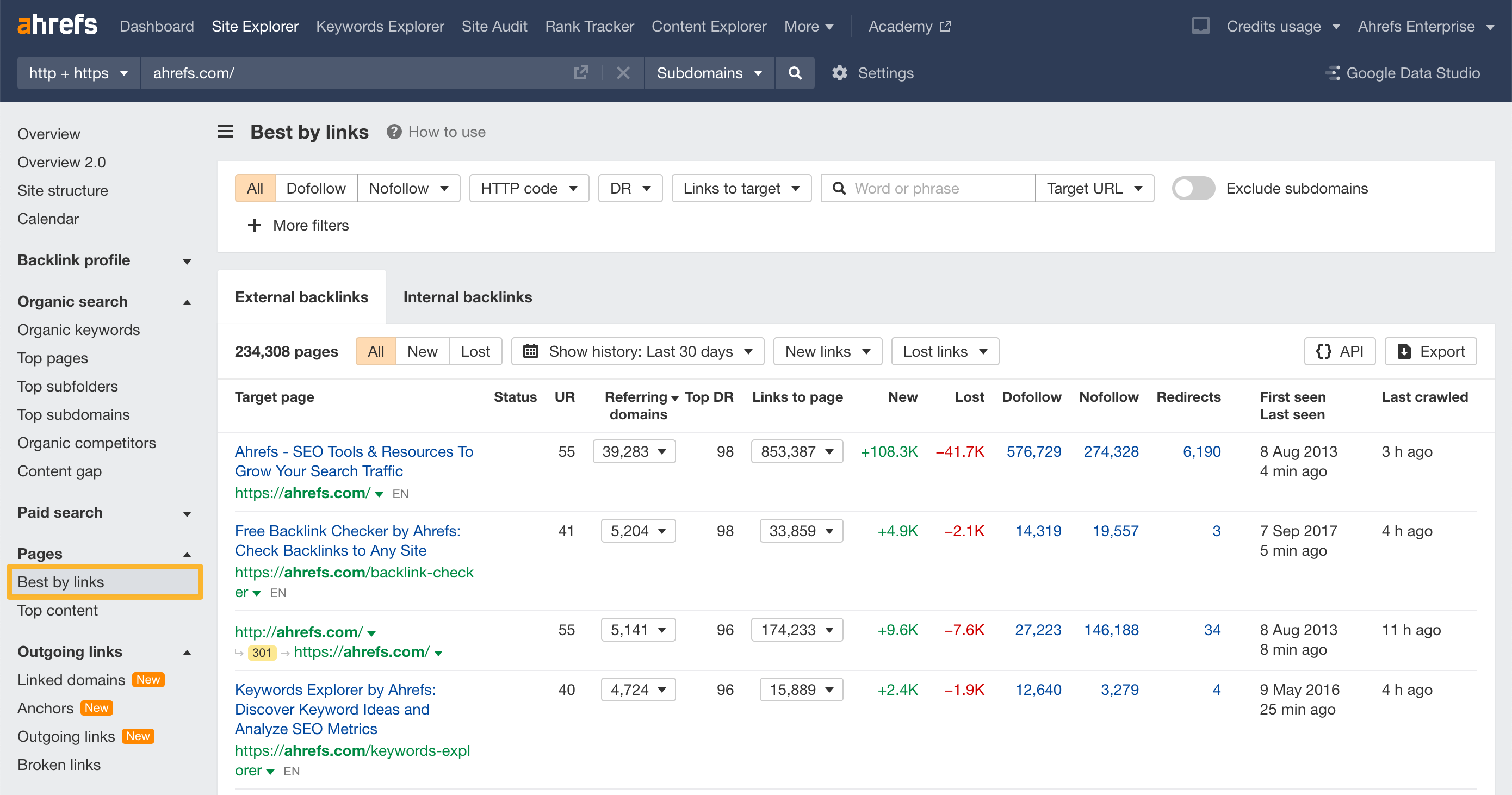 Here are some actionable use cases for this report.
See your competitors' most linked-to pages
Find out which of your competitors' pages have the most links and understand the type of content that attracts links in your industry.
For example, many of the most linked posts on the Ahrefs blog are research studies.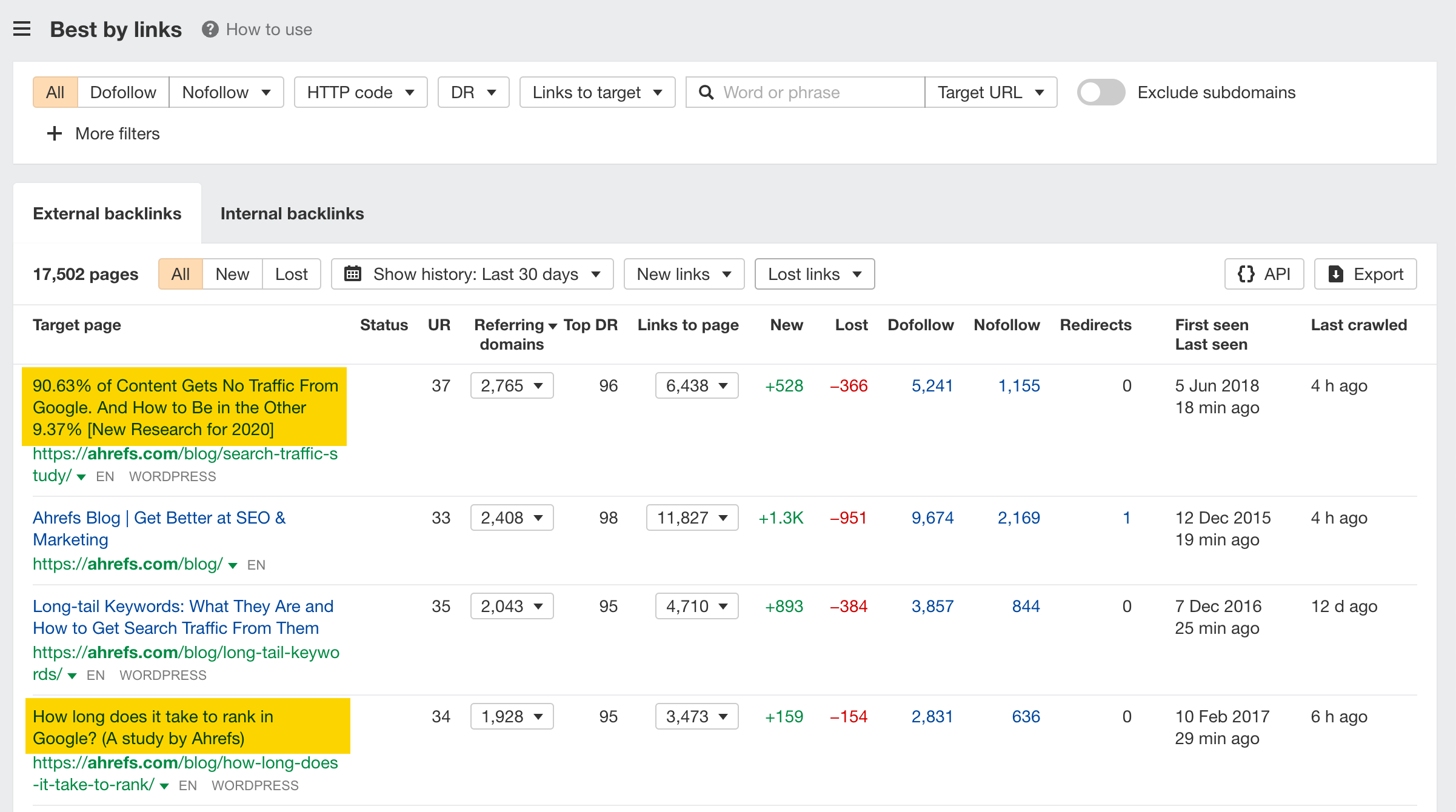 TIP
Add a "200 OK" filter to see only "live" pages (i.e., no 301 redirects or 404 pages).
See if your competition is proactively building links
Spot newly built backlinks by setting these filters:
Backlinks tab: New
Show history: Last 30 days
Status: Newly published/Link added
This will help you differentiate between new links that were added together with the page or to an already existing page.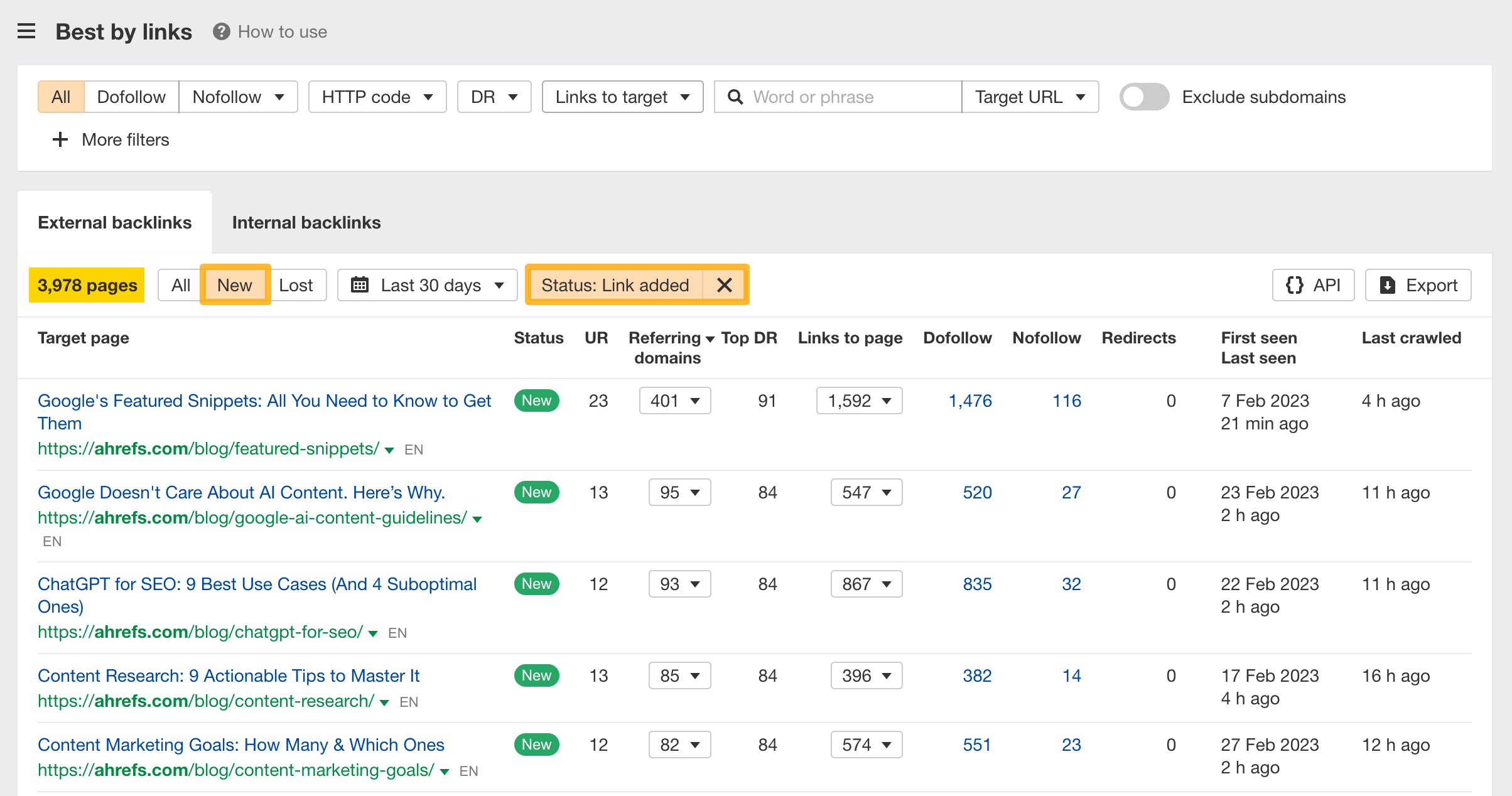 Find broken link building opportunities
Broken link building is a tactic where you:
Find a broken page with backlinks
Recreate the dead page and make it better
Reach out to those linking to the dead resource and ask them to link to you instead.
Find these opportunities by checking which of your competitors' pages have tons of backlinks but are broken. Just enter a competing domain, then set the HTTP code filter to 404 not found.
For example, if you were to be a competitor of Canva - the design tool - you could potentially create a better resource for zoom virtual backgrounds of resumes.
After you've created the content, you can ask those linking to the now broken page to link to you instead. You can view the referring domains and backlinks to each page, without opening a new tab, from the Links to page dropdown.

Want to learn more about broken link building? Check out this video tutorial:
Find and fix broken pages on your site
If you have broken pages with backlinks, you are potentially losing link equity and should aim to fix them.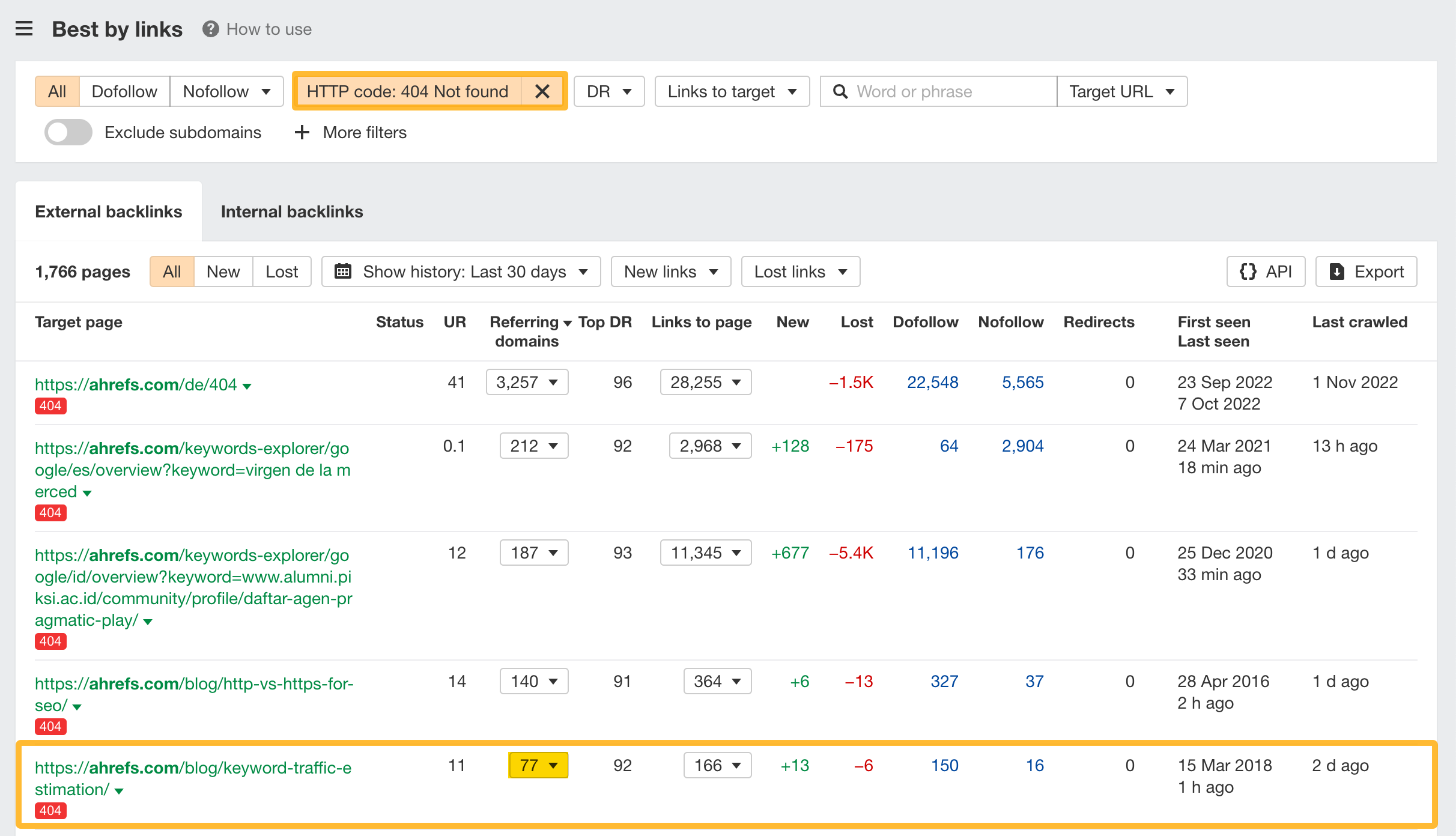 Follow the same method as above, but this time around, analyze your own site.
In this example, we have a broken page on "how product and R&D teams achieve cross team collaboration", where we're wasting the link equity from 11 referring domains that are currently linking to that page.
Find dead internal links
See if you're wasting link equity by adding backlinks to internal dead pages. To spot them:
Switch to Internal links.
Filter by Dofollow links.
Set the HTTP code filter to 404 not found.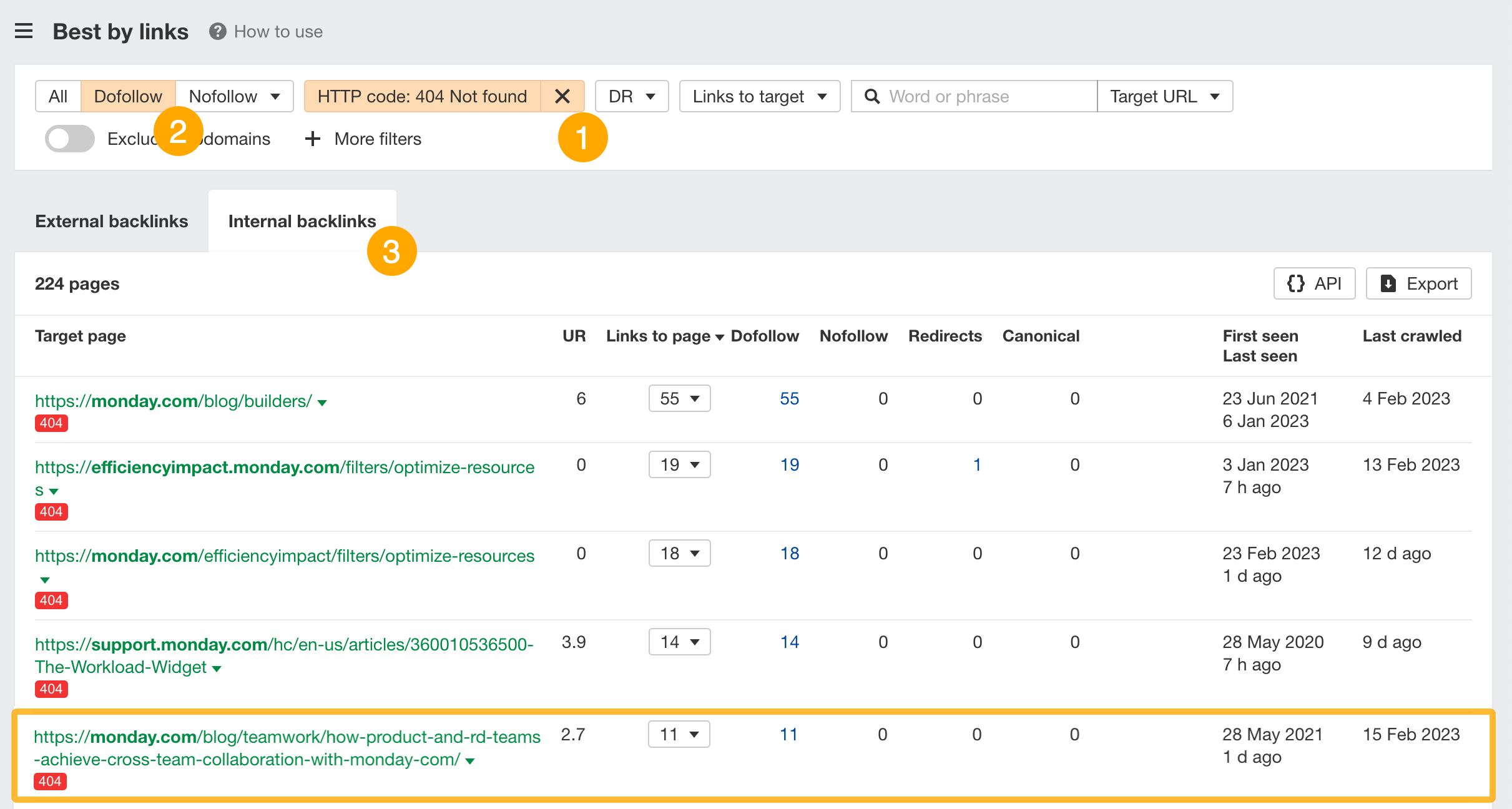 Looks like monday.com - the project management tool - is internally linking to their non-existent post on "work os" from 3 pages on their website.
Find nofollowed internal links
See if you're adding unwanted nofollow tags. Switch to the Internal links tab and filter by Nofollow links.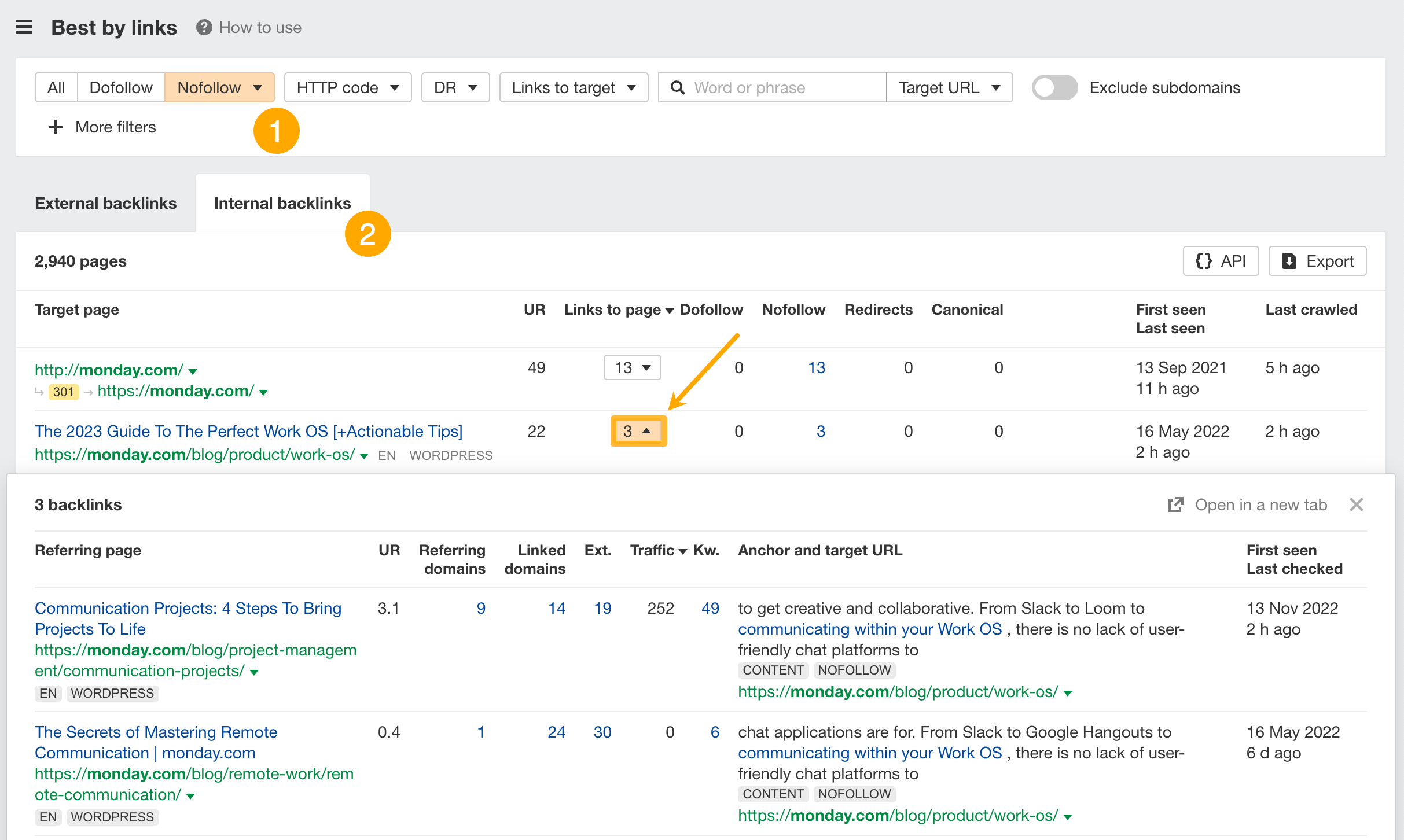 If you see pages with a lot of nofollowed internal links, click the number to see where those links come from. Investigate further.
If there is no obvious reason why these links are nofollowed, remove the nofollow tags.
Add internal links from "power" pages to boost other pages
"Power pages" are those with the most link authority. To give less authoritative pages on your site a boost, you can internally link to them from relevant power pages.
For example, let's say we want to give our article about keyword difficulty a boost. Use the search box to find relevant posts including the "keyword" topic.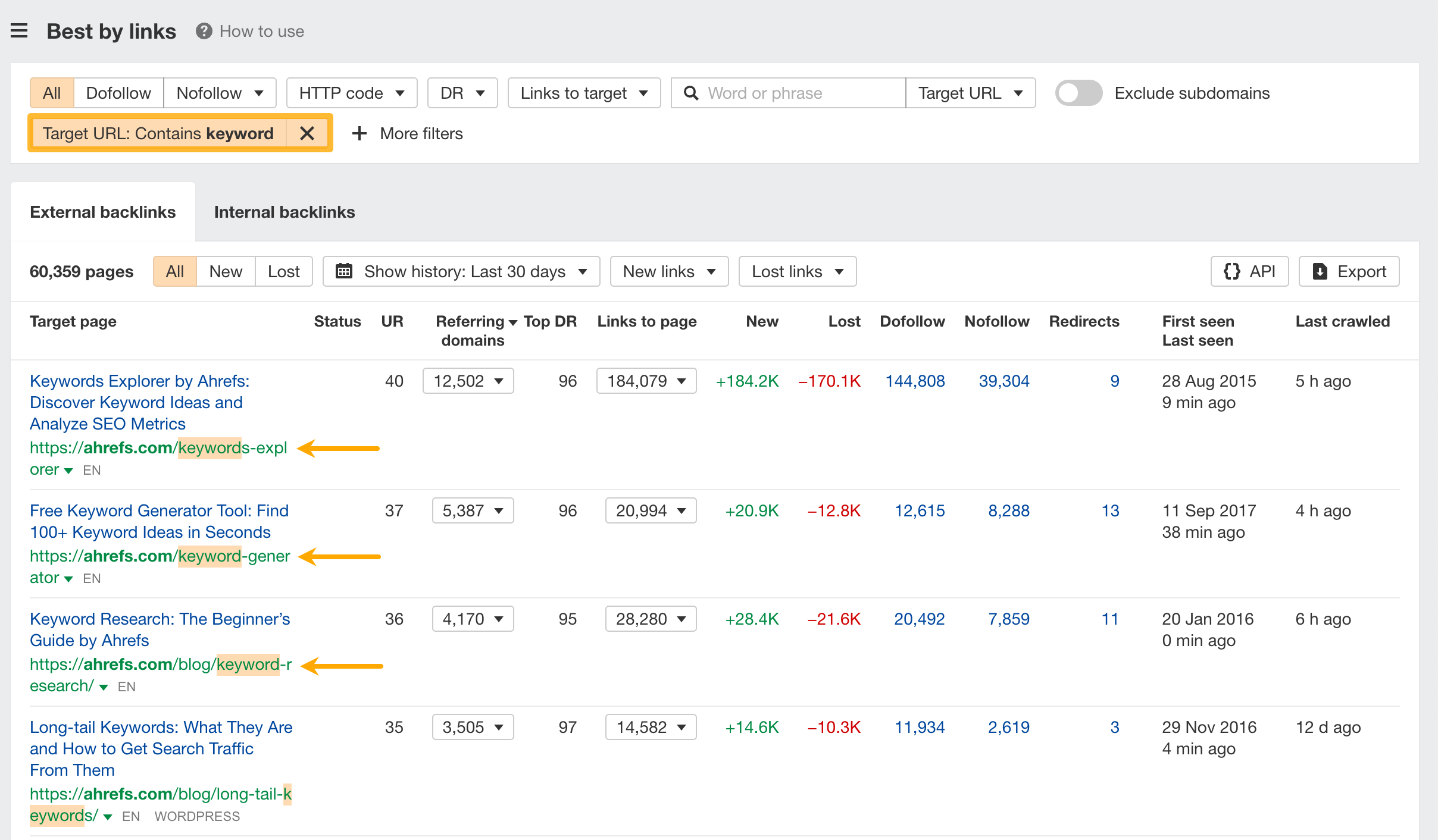 Keep learning
Here are some guides that will show you how to make use of the "Best by links" report:
Next lesson
Linked domains