Rank Tracker
How to use the Metrics report
In this report, we show keyword metrics for all of your tracked keywords.
Use the filters to refine the list and focus on the keywords that matter to you.

The "Metrics" report can act as a "shortcut" to see the important keyword metrics at a glance.
See the "Parent Topic" for your tracked keywords
Parent Topic determines if you can rank for your target keyword while targeting a more general topic instead.

To identify the Parent Topic, we take the #1 ranking page for your keyword and find the query sending the most search traffic to that page.
For example, we're targeting the keyword "alternative search engines." However, the Parent Topic tells us that we could rank for both "search engines," and "alternative search engines," with the same page.
In this case, it might be worth optimizing for the Parent Topic, then adding the keyword to Rank Tracker.
See the ranking position history for your tracked keywords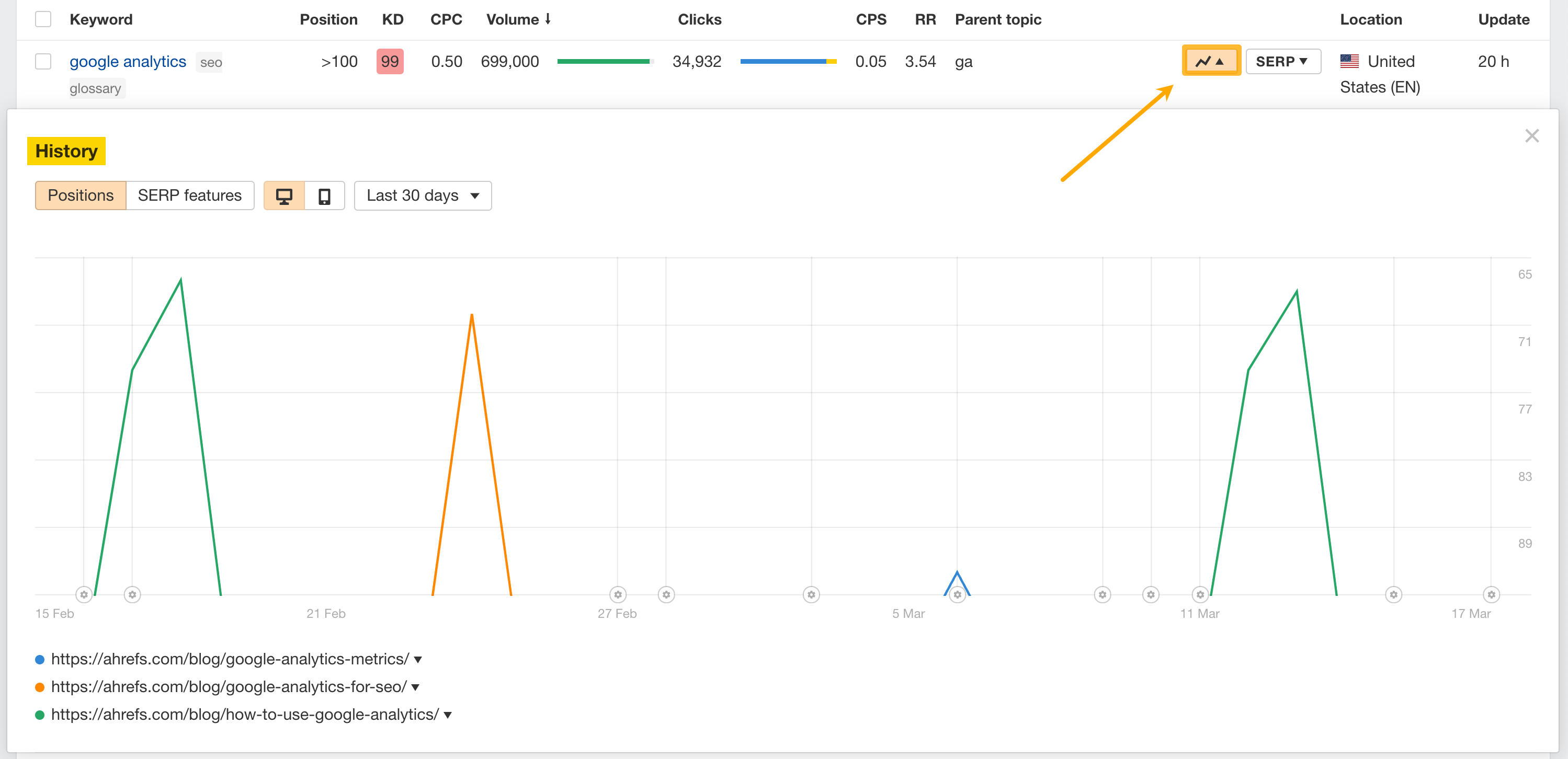 See SEO metrics for the top-ranking pages
Hit the "SERP" dropdown to see the first page of the search results for your keyword, along with important SEO metrics.

In the SERP overview, you'll see the following SEO metrics of the top 10 pages:
Ahrefs Rank (AR);
Domain Rating (DR);
URL Rating (UR);
Number of backlinks;
Number of referring domains;
Estimated monthly organic traffic in the target country;
Number of keywords the page ranks for in the target country;
The keyword that sends the most organic traffic in the target country;
Search volume for the "top keyword" in the target country.
This allows you to quickly assess the top-ranking pages and understand why these pages are ranking where they are.
Next lesson
Competitors: Overview